Have you heard about Naloxone? It saves lives!
Here at Inclusion Isle of Wight (and #InclusionInspire) we provide Naloxone (Prenoxad)to anyone who may be at risk of overdose from using opiates. We train service users and carers and those supporting clients in places such as hostels and crisis centres to use this potentially lifesaving intervention.
We also replace naloxone when it has been used or reached ban expiry date.
What is naloxone?
Naloxone is a medication that is used to temporarily reverse the effects of opioid drugs like heroin, morphine, methadone, codeine etc. Naloxone has been used for many years by healthcare professionals in hospitals, and by ambulance crews and paramedics in communities as an 'emergency rescue medicine', when there's a suspected opioid (or opioid-related) overdose. When someone accidentally overdoses and opioid drugs are involved, their breathing can be compromised and this can lead to their death. Naloxone temporarily reverses the effects by helping to restore the breathing of the person, 'buying time' before an ambulance arrives and ultimately saving lives!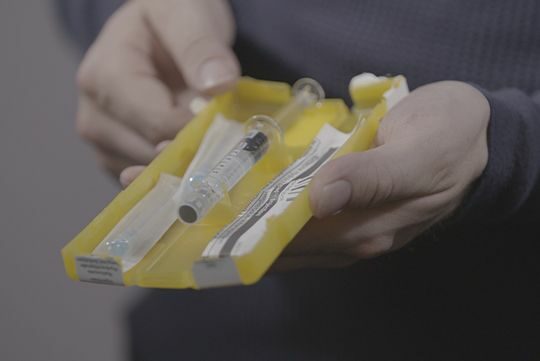 I used it on my friend who went over, it brought him back to life
- Service User
I can't believe something so simple, saved my life. I will forever be forever grateful.
- Service User
I have made changes already. Realising I have a second chance at life, all because of naloxone.
- Service User
Is it legal?
Prenoxad Injection (naloxone hydrochloride 1mg/1ml solution for injection) is a type of naloxone that can be prescribed to anyone who is at risk of an opioid overdose. It can also be supplied to the friends, family or other representative of someone identified to be at risk, but only with the written consent from the person for whom it is to be supplied. Prenoxad Injection can only be made available once the prescriber has assessed the suitability and competence of a client or representative to administer it in the appropriate circumstances. It's legal to carry Prenoxad Injection and it will not be confiscated by the police as long as the pack has not been opened.
Important information to know
The law allows naloxone to be used by members of the public to save a life in an emergency. This could be a friend or family member of someone who is at risk of opioid overdose. It may be used in the home or elsewhere. It is designed as an emergency rescue or first aid treatment so it does not replace the need to get medical attention as soon as possible. It is crucial that an ambulance is still called by dialling 999 and that the casualty is seen by the ambulance crew. This is because naloxone will wear off after a short time and there is a danger of the casualty going back into an overdose situation.